A new Fabory
We have a new look! The new Fabory is optimized for you to easily search, select and order from the broadest variety of fastening articles. We have improved our online design to operate effortlessly on tablets and mobile devices for the best possible experience, no matter where you are, and the exclusive My Fabory module shows extensive order history and tracking information for consistent purchasing. Tell us what you think!
Visit our Webshop on your mobile device
Fabory's new Webshop has been created with the utmost convenience in mind, so it is also easy to use on mobile devices. This way, information about fastening is accessible whenever and wherever it is needed, and products can be ordered quickly while on the go.
FINDING PRODUCTS: NEW WAYS TO FIND YOUR PRODUCTS
We have improved not only our search engine, but also our product data, for when you need a product and have to find it quickly. Below is information about the newest Fabory features that help to not just search for products, but actually find the correct ones.
IMPROVED SUGGESTIONS
The Webshop smartly indexes product suggestions based on three types of data: category name, product name and keywords.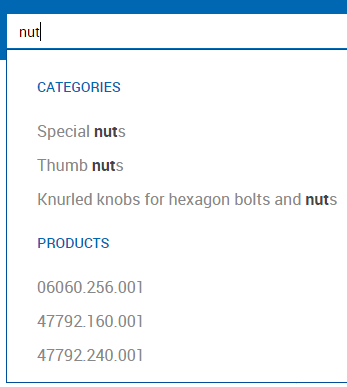 GROUPED OVERVIEW
Have you ever searched for a bolt and received over 20,000 results? Avoiding that confusion is why we created the master-variant tool, which enables products to be found more quickly. The search results display the master pages, which provide all of the fasteners' specifications and a variant table with other relevant possibilities. The search function thus yields fewer results when executing a search query, and it provides a better and more understandable overview of the available variants.

SEARCH WITHIN FILTERS
We have reintroduced the option to search within filters. The functionality was stripped from the old Webshop, but we identified the need for customers to search within filters. The filter search also displays results in a simple and convenient way.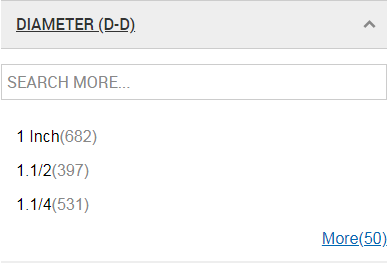 BOOSTING PROFILES
Based on conclusive analyses, we are now able to boost products in the search results when you enter a specific keyword. This way, we can put the most popular products at the top of the results.
CHECK THE STATUS OF YOUR ORDER IN MY FABORY
To view your current and past orders, you can easily check the new Order Portal at My Fabory. The Order Portal clearly displays the status of all of your orders, regardless of whether they were placed online or offline. To save time and ensure correct orders, the Order Portal makes it possible to easily reorder a previous purchase from your order history.