Assortment
Fabory is the right choice for all your fastener needs. Our product portfolio contains a wide range of standard fasteners and customer-specific fastener solutions for various applications, complemented with C-parts.
Fabory Logic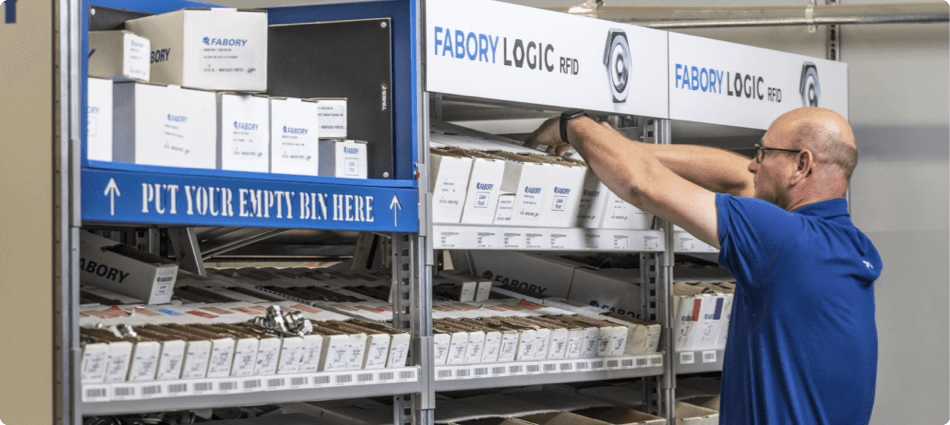 Fabory assists in the availability of Fasteners and C-parts. Innovative dashboards provide insight into your consumption enabling you to reduce your TCO. Fabory Logic offers you RFID, Optical-Eye, Weight Scales and Merchandiser services.
QA/QC & Engineering
Fabory is built on its quality and reliability. Refined quality management and specialised quality control systems are at the core of our operation. Our engineers are available to support you in ensuring the correct fastener choice for the application.
Our Expertise
Fastening solutions and services differ greatly by industry. Fabory believes in a customer-specific approach. Thanks to years of experience and extensive application knowledge in the field of fasteners, we remain commited to delivering the maximum added value for you, our customer.
About Fabory
Welcome to the world of Fabory, recognized specialist in fasteners. It all started in 1947 with the distribution of nuts and bolts. Today, Fabory has grown into a full-service specialist in fastener solutions and related products. We share our knowledge and expertise with the market and offer our partners supply solutions. With our digital and innovative logistics solutions (Fabory Logic), we are able to relieve our customers of all their worries from A to Z.
Together we are responsible for 120,000 satisfied customers and process more than 5 million order lines per year. We accomplish this in cooperation with more than 3,000 suppliers. We are proud to welcome almost 400,000 visitors in 28 Fabory Centers divided over several countries each year, and also over 2 million visitors to our web shop.