POP AVDEL
A high speed cordless power tool with great strength and endurance.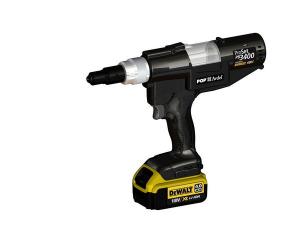 EASY
Tool-free quick-release nose housing and jaw guide removal.
LIGHT
Weight is only 2.42 kg, including the 4.0 Ah battery.
STRONG
It has an 18 kN pulling force and 30mm stroke.
LONG-LASTING
Powered by DeWalt XR Li-Ion batteries
Powerful tool with excellent ergonomics, strength and additional features. Ensures high productivity and improves the return on investment with very low installation cost. It is ideal for site work where compressed air is not available.
FEATURES
Durable brushless motor that requires minimal maintenance
Long-lasting battery capable of placing up to 1,000 ø 6.4 mm structural blind rivets per charge (4.0 Ah battery).
Time-saving continuous operation in production environments without "tool overload"
Easy to use:
- Quick release nose housing and jaw guide.
- All nose pieces of the POP Avdel rivet range include a rivet-holding mechanism to allow the use of the tool in any direction, even upside down.
- Quick slide battery installation.
- Quick-release mandrel collector for easy emptying.
- Award winning ergonomic design that is compact and lightweight.
- Ergonomic anti-slip grip and excellent weight balance.
- Rivet-holding mechanism is suitable for vertical use so rivets do not fall out.
- Rest mandrel automatically drops into collector with large capacity.
- Easy quick-release nose housing removal (no tools needed).
- Easy and fast operation and maintenance.
SPECIFICATIONS
Dimensions L x H: 336 mm x 275 mm (4.0 Ah)
Batteries: DEWALT 18V XR Li-Ion 4.0Ah battery pack, with charge indicator
Charger: DEWALT DCB115 fast charger with charging progress lamp display and charge time of 60 minutes (4.0 Ah)
Piston stroke: 30 mm (5 mm longer than average)
Pulling force: 18,000 N
Noise level: 77 dB(A)
Capacity: Blind rivets ø 4.8 – 6.4 mm
Weight: 2.42 kg including 4.0Ah battery
Charging time: 60 minutes (4.0Ah)
MARKETS & APPLICATIONS
General industrial – Assembly lines, industrial products and uses such as sheet metal, tubing extrusions, plastic and other materials to provide strong reliable threads in applications that require assembly and disassembly
Domestic appliances – Heat exchanger
Ground transportation – Truck, trailer or commercial vehicles
Infrastructure – Solar and wind energy
Recreational vehicles
ROBUST CARRYING CASE CONTENT
Full kit with PB3400 tool, charger and 2x 4.0 Ah batteries.